---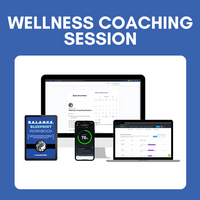 Have you set health and wellness goals in the past only to eventually fall off the wagon? If so, you're not alone! That's why we 1:1 support to help keep you accountable as you create generational wellness.
Our wellness coaching sessions are perfect for those who want to prioritize their health and well-being. Our sessions are tailored to meet your specific needs and preferences, ensuring that you receive the support and actionable takeaways you need to achieve your wellness goals.
Whether you're looking to reduce stress, improve your sleep, or boost your overall energy levels, our experienced wellness professionals can help. With our personalized approach, you can rest assured that you'll receive the guidance and support you need to feel your best.
Now is the time to invest in your wellness, because you are worth the investment! Book your session today and take the first step towards a healthier, happier you.